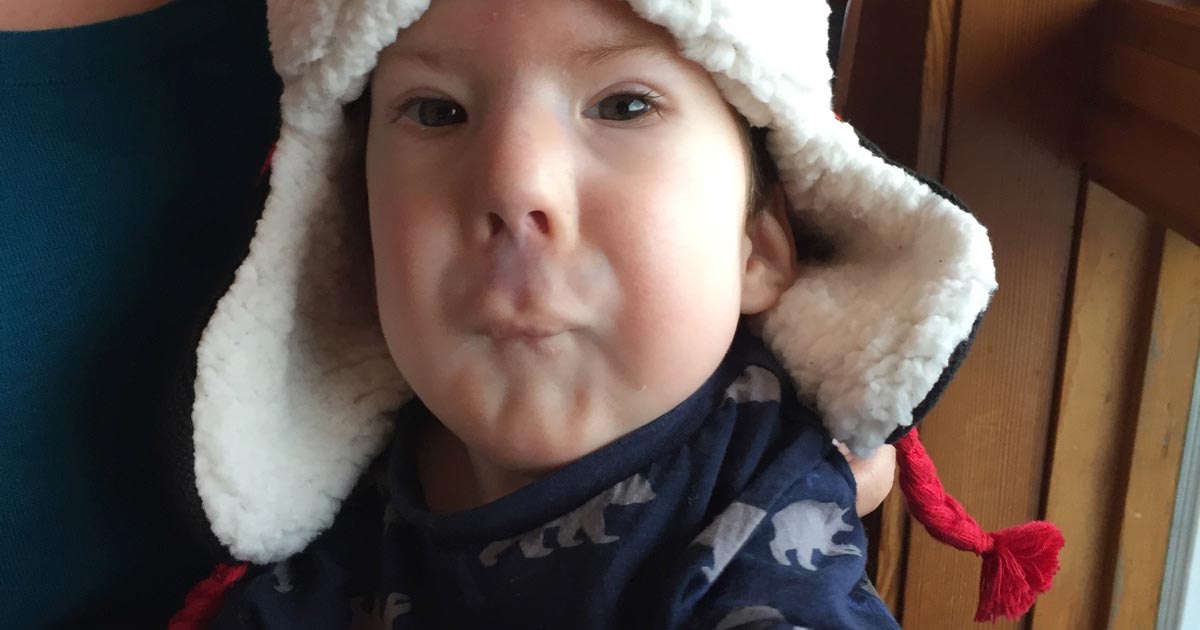 While sleeping, Noah has had coarse breathing. It has increased over the past couple days and is bad enough now to wake him up every 5-15 mins. The Hardins—Seattle Branch—didn't have the best sleep last night.
9:30 am
Drove into the ED this morning at 9:30 to have him checked out. Everyone says his lungs sound clear. He does have a small amount of secretions, but not what typically would have been the cause of his airway obstruction while sleeping.
So… now we're waiting for consult with the pulmonary team on what to do next. Looks like we'll stay at least a night "for observation".
Congestion/mucus? No.
Lungs sound junky? No.
Trach tug / retractions while breathing awake? No.
Fever? No.
Throwing up his food? No.
Dehydration? No.
Cranky while awake? No.
Won't sit upright? No.
Viral swab? Negative.
…Our theories move toward more anatomical issues wth his airway.
1:00 pm
Yay!!! We have a scope procedure on the books for tomorrow in the OR.
ENT will go in and look all the way down his throat (trachea) to gather info on what might be causing his throat to become partially obstructed while sleeping.
Noon on Monday, Dec. 5
Headed down to pre-op.
2:00 pm
He's in the OR. We're in the waiting room waiting. 🙂
A bit scarier than we anticipated. But he should be just fine. If all goes well, they should be able to solve the issue that's been troubling him through a little surgical procedure. But at a minimum, hopefully the scope will shed a lot of light on what's going on in Noah's mouth and throat.
4:00 pm
SUCCESS!
Surgeon was "tickled" how well it went.
We will see Noah in 15 minutes in the ICU.
Probably will need to be intubated and in ICU for at least 2 days while swelling goes down.
Bonus: New ear tubes!
Praising God!! Thanks for praying, and supporting us!
Tuesday, Dec. 6
Noah had a severe case of what's called laryngomalacia. Which is essentially a floppy airway that partially collapsed whenever he was sleeping.
In response, the surgeons performed a supraglottoplasty procedure which, if all goes as planned, will keep his airway from obstructing.
Following the surgery, they left the breathing tube in to protect his airway while the initial swelling from the procedure reduces.
5:00 pm
We're just about at the first 24 hrs of intubation following Noah's procedure. Things are on track. Hard to see Noah in an induced sleep while the ET tube is in. But everything is looking as it should!
Next: Plan is to take the tube out tomorrow afternoon. At that point we'll really start to get a sense as to how effective the supraglottoplasty was. So far things seem promising. Nothing to worry about. Please keep the prayers coming!
🙏🏻❤️👍
Wednesday, Dec. 7
We had an emotionally draining day here at the hospital, culminating with a decision to NOT remove Noah's breathing tube until tomorrow, midday. (The exact time is uncertain at this point.)
At one point we had a bunch of attending/head doctors, fellows & nurses in the room ironing out some confusing details and disagreements. Afterwards, I was laughing about how much that 30 mins alone must have cost our insurance co. Lol.